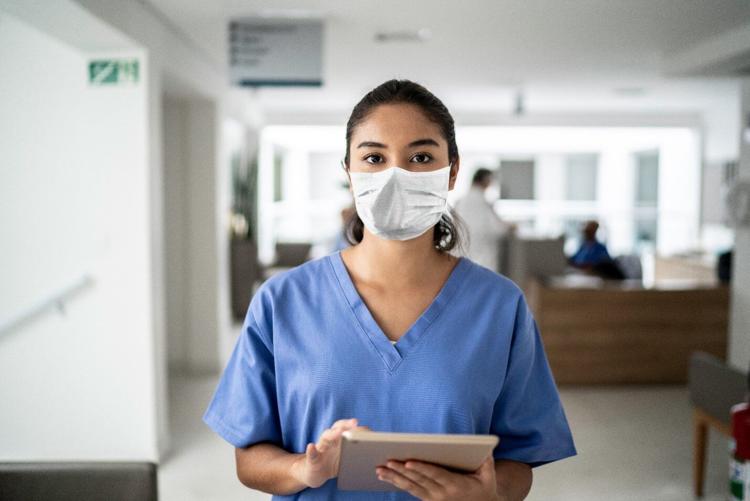 Life does not always deal an easy hand, and to thrive, one must decide to change the cards. As part of that process, many times, a new career path is required—one that can be discovered at Campbellsville University in Louisville. Leigh Wood, Allied Health program director, describes a life-changing experience for one of her students who is a mother of two and had previously endured many obstacles in her life preventing her from obtaining a degree.
Enrolled in a certificate program that trains medical students, part of her coursework included hands-on involvement in a real medical office setting. Wood advised the student to treat that experience like a job interview. The words proved prophetic. "Before she finished the course, that office offered her a position, and she's been there almost a year now," Wood recalls. "It's been life-changing for her."
It's a scenario Wood sees unfold time and time again, repeated testaments to the opportunity that continuing education can provide. And in the burgeoning healthcare field—more important now than ever due to the Covid-19 pandemic—there are no shortages of opportunity for the medical assistants, pharmacy technicians, nursing aides, professional coders and other skilled graduates produced by the Campbellsville University in Louisville Allied Health program.
"Especially those people who have unfortunately been laid off from their jobs, it's a good opportunity for them to see that healthcare employees have been working throughout this entire pandemic," says Wood. "The healthcare industry is still hiring, and I don't think these jobs are going anywhere anytime soon."
Students who make a difference
In the medical field, the phrase "Allied Health" essentially refers to those professionals who are not nurses or doctors yet still perform many of the tasks associated with patient management and care. From the person who checks you in at the front desk, to the person who takes vitals and asks about your medical history, to the people who draw blood, dispense medication, or help answer your billing and insurance questions—they're all Allied Health personnel, making it easier for patients to navigate the medical world.
And many of them got into it for the same reason. "Usually, it's going to be your students who really want to help other people," Wood says. "That's how I got into it, and that's how most of the students we have in our Allied Health program got into it—they're detail-oriented, hard-working individuals who want to help others and want to make a difference."
Allied Health programs at Campbellsville University in Louisville are certificate programs that can take between two and eight months to complete. Then, the student must pass either a national or state-mandated certification exam. The courses are also affordable, beginning at $849 for a nursing aide certification, and are tailored to returning adult learners with flexible classes that are held either twice or three times weekly, or some that allow students to study at their own pace.
"We have a class option that will fit anyone's schedule," Wood says. "We have a lot of adult learners who are still working full-time or watching their kids on certain days, or whatever it may be. If they want to go back to school, we want to have an option available for them, and not hinder their ability to come back."
Valuable skills in an essential field
Allied Health programs cover the spectrum in the medical field. Nursing aide students are prepared to work in long-term care settings, focusing on basic nursing skills and communication, safety, and resident rights. Medical assistant students are cross-trained in the clinical and administrative duties required to work effectively in a healthcare setting. Pharmacy technician students are prepared to pass a national certifying exam, leading to jobs assisting in a pharmacy's day-to-day operation.
Medical billing and coding students develop an understanding of diagnosis and procedure coding systems and the fundamentals of the medical billing process. Medical office assistant students are prepared to handle a front desk and address the insurance and co-pay questions that go along with it. And phlebotomy students learn various blood collection techniques to obtain quality specimens that lead to quality results.
In all Allied Health disciplines, the goal is to train the students to pass their certification exam and start working as soon as possible. The result is the attainment of new, valuable skills in an essential field—and for some, a potentially life-changing opportunity.
"Opportunities in the healthcare field are only increasing," Wood says. "There are even more jobs available now—I recently had a recruiter from Norton Healthcare come in and talk to my students about positions they had available just for medical assistants. There are so many jobs available, and we're preparing these students to receive their certifications and be ready to work."